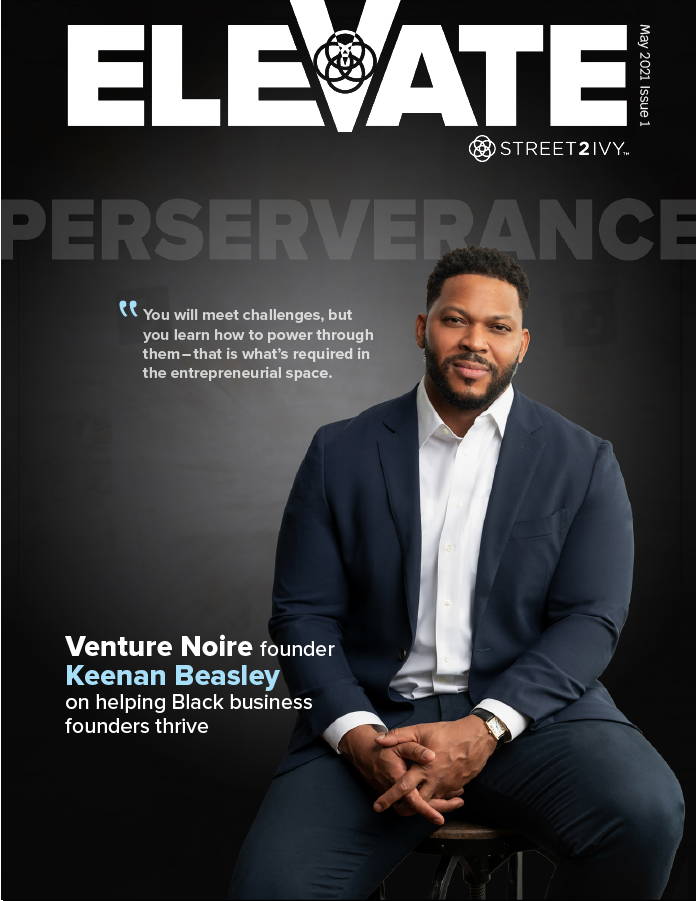 Welcome to the inaugural issue of Street2Ivy's EleVate Magazine. EleVate helps new and aspiring entrepreneurs overcome obstacles on their journey to entrepreneurship by offering resources, real-world advice and inspiration. In this issue, our theme is "Perseverance."
Our cover story features Venture Noire founder Keenan Beasley in a story by Davina van Buren that explores how Beasley helps Black business founders thrive.
Other highlights include real-world advice from F
ounder-Turned-Investor Miles Lasater, c
rowdfunding expert Bri Castellini, and EpiEP CEO Pam Bunes. We also include videos of b
akers/entrepreneurs Tiffany Biddle of Sweet Mae's Cookie Company (Cincinnati), Taylor Moore of Grey Bird Baking Company (NOLA) & Jean Chatman of Chatman J. Cakes (The Bronx)
.
Plus:
Nathalie Anglès of Brooklyn's Residency Unlimited, intros 3 contemporary artists Daniela Krajčová, Peter Erik Lopez and Nazanin Noroozi

Street2Ivy co-founder Richmond Appiah Jr. on the theme of "Perseverance"

Our newest Street2Ivy retailers Avenue Studio & Beloved.From Now On
---
You can share individual stories from our latest

issue on social media by using the links below:
---